Haave you missed me? I hope you did. Haha. But I'm back now! And I'm here to stay! Hopefully. Without much rambling, I'll tell you what has been happening lately, why I haven't been active here or on social media in general, why I haven't read any of your posts (sorry!) and some other stuff.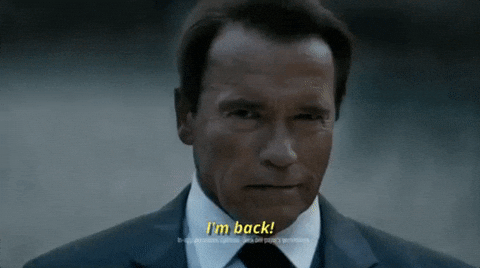 It's been 2 months since I even opened blogger. I honestly thought I would just take a two week break to deal with my stuff and then come back, but it turned out that my assignment took a lot more time than I calculated. So, what's the big thing that occupied me? College. Or uni. Whatever you call it. I had to write my final paper and take care of tons of stuff and that was still my number one priority. To be honest, I had some time to write one post a week, but I was so stressed out all the time, I couldn't be bothered with this platform. However, I missed it almost every day.
So I can now proudly say that I finished my paper,
I finished college too
!! And, even though I'm starting to
work
today, I'm much more relaxed and happier so life is pretty good right now. I also made a pact with
Anja
from
Gaia_s
blog that we would both start blogging again in October. Her schedule has been hectic too, so we think it'll be easier to do it
together
, pushing each other towards the goal.
Thank God for friends!
♥
My plan now is to start posting regularly again (
Monday 9 a.m. CET
,
Thursday 6 p.m. CET
). This blog will remain all beauty, make-up, fashion, interior decor, recipes here and there and other stuff. Basically, I'll just continue where I left off. However, if you like more personal stories, there's my
other blog Beehive
where I'll post every
Sunday noon CET
. I'll include those stories here too, so you don't have to keep track of both blogs.
If you have any questions, suggestions or requests, please leave them below in a comment section, contact me via email honey.royal.lifestyle@gmail.com or on Twitter.
Thank you!!